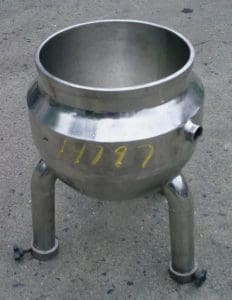 When you hear the word kettle, you may think of the tea kettle that you leave on your stove. Commercial kettles are very similar in practice, but they are much larger to meet the needs of manufacturers and food preparers around the world. Kettles, especially open-top kettles, have many industrials uses.
Your typical tea kettle is made from metal and used for boiling water. Industrial kettles are also pots made from metal, but they can be used for many purposes besides boiling water. Tanks are similar to kettles and can also be used for heating, but they do not do the same job.
Kettles are used to heat things evenly, as they have an agitator that evenly spreads the heat throughout the food. Kettles are also useful for substances with both solids and liquids. For instance, in beer making, the wort must be agitated to separate the solids from the liquids. It is then pumped into a tank where it will sit for fermentation.
Steam-jacketed kettles are designed to heat food quickly while preventing burning the food. They do this by using heat from steam to evenly heat the food. For example, if you are using a kettle to boil pasta, a steam-jacketed kettle would prevent pasta from sticking to the bottom of the kettle and burning. These kettles come in various grades. The higher grade kettles can be used to heat acidic food such as pasta sauce, while the lower grade kettles are good for handling less acidic food.
Schier Company offers many different varieties of kettles that can meet your business's needs. If you would like to order a kettle or if you have any questions, give us a call at 918-321-3151.